Program
Laetare 2024
Saturday, March 18, 2023
8:00 p.m. : Ball at the Abbey , free entry into heated tent. Purely carnivalesque atmosphere.
8:30 p.m. : Night Procession of humor and light.
Sunday, March 19, 2023
12:30 a.m. : City entertainment with the Réveil Ardennais
1:30 p.m. : Grand Parade of Laetare Stavelot with 2,500 participants. The magic of the show appointment with the public Rondeau des Blancs-Moussis (Place St-Remacle, at the end of procession) The afternoon until evening : Podiums at the Abbey, fanfare, harmonies and Bandas
9:00 p.m. : One of the biggest fireworks in the area!
10:00 p.m. : Nuit Blanche des Blancs-Moussis in the cellars of the Abbey with Bandas and Orchestras.
Monday, March 20, 2023
3:00 p.m. : Output folkloric and musical groups.
00:30 a.m. : Awards ceremony at the Abbey.
Entrance fee
————-
• Saturday March 18, 2023
Free Entrance
• Sunday March 19, 2023
Entrance € 5.00 (and for children over 12)
FREE entry for children under 12
& for the inhabitants of the commune of Stavelot
(upon presentation of your identity card)
News
https://www.facebook.com/events/536841644487674/ Welcome to 518th Laetare de Stavelot on March 18, 19 and 20, 2023 For the program for these 3...

More
All the news
Festival Committee

Awareness of the Laetare and quality of entertainment offered during the three days of festivities are second to none . It is every year nearly 2,500 participants who walk the streets dressed in Stavelot . The famous White Brotherhood Moussis opens the ball , followed by 15 local Stavelot folk groups and various foreign and musical societies .
Side spectators, the Laetare annually brings together a large number of visitors dazzled by the magic of processions and illuminated by the flashing red and blue fire ever more prestigious fireworks .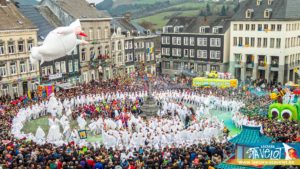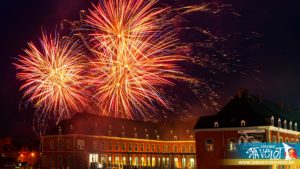 More >
They are the pride of Stavelot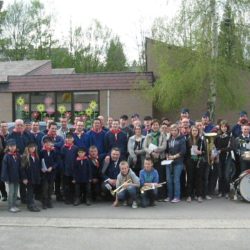 Artisans Réunis
A men's choir founded in 1885. These ardent carnival lovers interpret songs in Walloon....
The music groups
Folk groups
Keep in touch !
Our newsletter
Notre lettre d'informations
Photo galleries and videos