Bus shuttles
Sunday
BUS SHUTTLE n°1
—————————
GO
——-
Departure from the car park of Malmedy Expo in Malmedy to the entrance "Petites Communes" Stavelot
– 11h30
– 12h30
– 13h00
RETURN
———-
Departure "Petites Communes" from Stavelot to Malmedy Expo in Malmedy
– 18h30
– 19h30
– 20h30
– 22h00
BUS SHIPS n°2
—————————-
GO
——-
From Blanchimont to Stavelot "Petites Communes
– 12:00 to 14:00 non stop
RETURN
———-
From Stavelot roundabout towards Blanchimont
– 18h30
– 22h00
The main entrances are: Route de Malmedy & Nettoyage Evrard
LAETARE de Stavelot 2023 :
retour le samedi et le dimanche
mais UNIQUEMENT sur INSCRIPTION.
Au vu des contraintes actuelles (pas de disponibilité de chauffeur), il n'y aura PAS de bus à disposition.
Pour votre retour en sécurité,
le titre de transport des risques du samedi soir est requis !
Merci de respecter les bénévoles et les chauffeurs en vous présentant 10 min avant le départ et de nous contacter en cas d'annulation !
Plans & Processions
Laetare de Stavelot 2023
SATURDAY procession – Stallumez-vous !
Light and folk procession
FREE entrance !
—————————————————–
Formation of the procession from 19:00
Parking Bressaix and Rue des Îles
—————————————————–

Departure 8.30pm (Amblève Bridge)

Rue Gustave Dewalque …..2
Rue du Châtelet …..3
Avenue Ferdinand Nicolay …..4
Place F. Prume …..5
Rue Haute …..6
Place Saint Remacle …..7
Rue du Vinave …..8
Rue Henri Massange …..9
Rue Neuve …..10
Half-turn tanks – Avenue du Doyard …..12
+ Buvette and WC (Gaspar Meubles)
Rue Neuve …..13
Rue Henri Massange …..14
Avenue Ferdinand Nicolay …..15
Place F. Prume …..16
Rue Haute …..17
Place Saint Remacle (Dislocation) ….. 18
First Aid Post (MRS – Friterie Sébastien)
(ORANGE – Abbaye) .
WC PUBLIC (TURQUOISE – symboles WC)
—————————————————–
City closed on Saturday from 6pm to midnight
FREE entrance !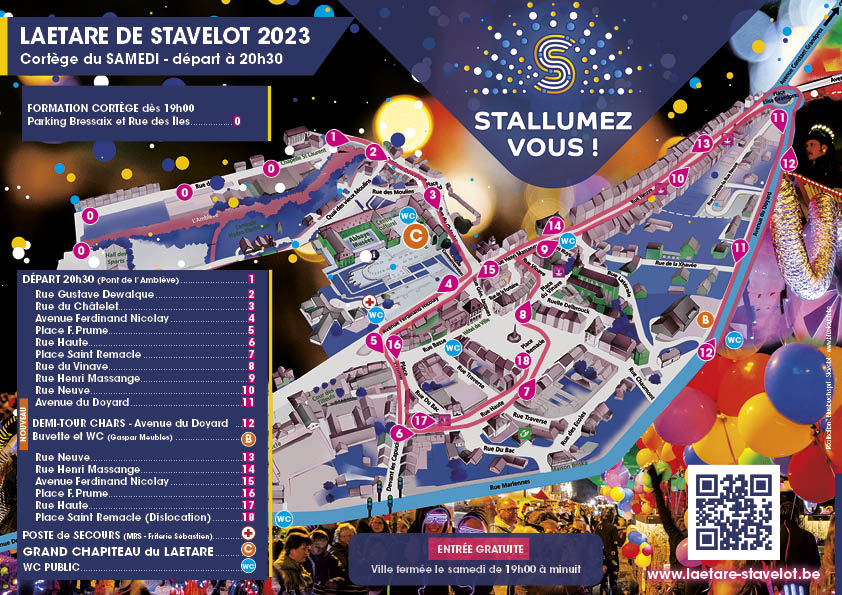 Download the PDF directly at :
https://www.laetare-stavelot.be/wp-content/uploads/2023/02/LaetareDeStavelot-CortegeSamedi-2023-v02.pdf
Download the JPG directly at :
https://www.laetare-stavelot.be/wp-content/uploads/2023/02/LaetareDeStavelot-CortegeSamedi-2023-v02.jpg
SUNDAY procession
518th Laetare of Stavelot
Sunday procession – departure at 1.30 pm
Entrance fee 5,00€ for people over 12 years old
FREE entrance for children under 12 years old
& for the inhabitants of Stavelot
(on presentation of your identity card)
—————————————————–
Procession formation from 12.30 pm
Rue Marlennes & Basse Levée
—————————————————–
Departure 1.30 pm (Rond-Point Blanc-Moussis)
Avenue Fernidand Nicolay…..2
Rue du Châtelet…..3
Place Wibald – Place du Rivage…..4
Rue Haut Rivage…..5
Rue du Vinâve – Place du Vinâve…..6
Place Saint Remacle…..7
Rue Haute…..8
Rue devant les Capucins…..9
Rue Marlennes – Av. du Doyard…..10-11
Place E. Grandprez – Rue Neuve…..12-13
Rue du Vinâve – Place du Vinâve…..14
Arrivée (Place St Remacle)…..15
—————————————————–
BUVETTES : Gaspar Meubles & Collège St Remacle….. B
PODIUM (sur l'esplanade de l'abbaye)….. P
First Aid Post (MRS – Friterie Sébastien)
Lost Children – Announcement – Sono…..S
Imprimerie Schmitz, next to the church – Tel 080 86 20 93
PODIUM PMR (Cour des Tilleuls – Av. F. Nicolay)
Slow down zone (without procession) (av. du Doyard)…..11
—————————————————–
City closed on Sunday from 10.00 to midnight
Stavelot bypass open after the rondeau (+/- 19h00)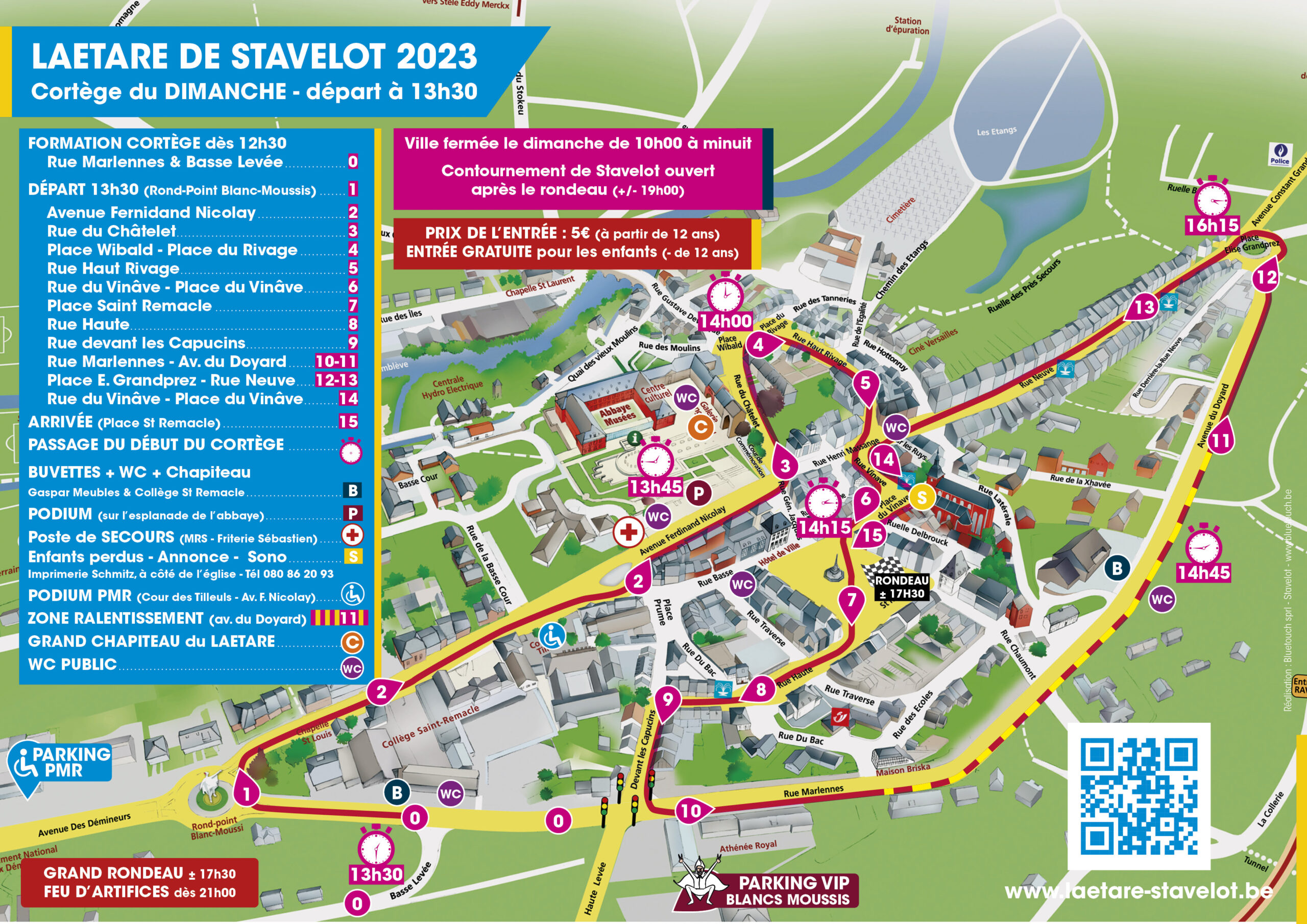 Download the PDF directly at
https://www.laetare-stavelot.be/wp-content/uploads/2023/01/LaetareDeStavelot-CortegeDimanche-2023-v01.pdf
Download the JPG directly at :
https://www.laetare-stavelot.be/wp-content/uploads/2023/01/LaetareDeStavelot-CortegeDimanche-2023-v01-scaled.jpg
Entrance to the Laetare
& Access to the City of Stavelot
518e Laetare de Stavelot
Entrance fee 5,00€ for children over 12 years old
FREE entrance for children under 12 years old
& for the inhabitants of the municipality of Stavelot
(on presentation of your identity card)
—————————————————–
4 main entrances….. (PINK – symbol V)
1. Chemin du Château
2. Avenue des Démineurs
3. Haute Levée
4. Avenue Constant Grandprez
5 Secondary entrances….. (TURQUOISE – symbol V)
5. Basse Cour
6. Basse Levée
7. Rue Chaumont
8. Rue Xhavée
9. Avenue André Grégoire

Control, no entry….. (Dark BLUE – cross symbol)
Car Pass Control ….. (MAUVE – car symbol)
Closing of the city to traffic….. (RED – prohibition symbol
—————————————————–
City closed on Sundays from 10:00 to midnight
Stavelot bypass open after the roundabout (+/- 19h00)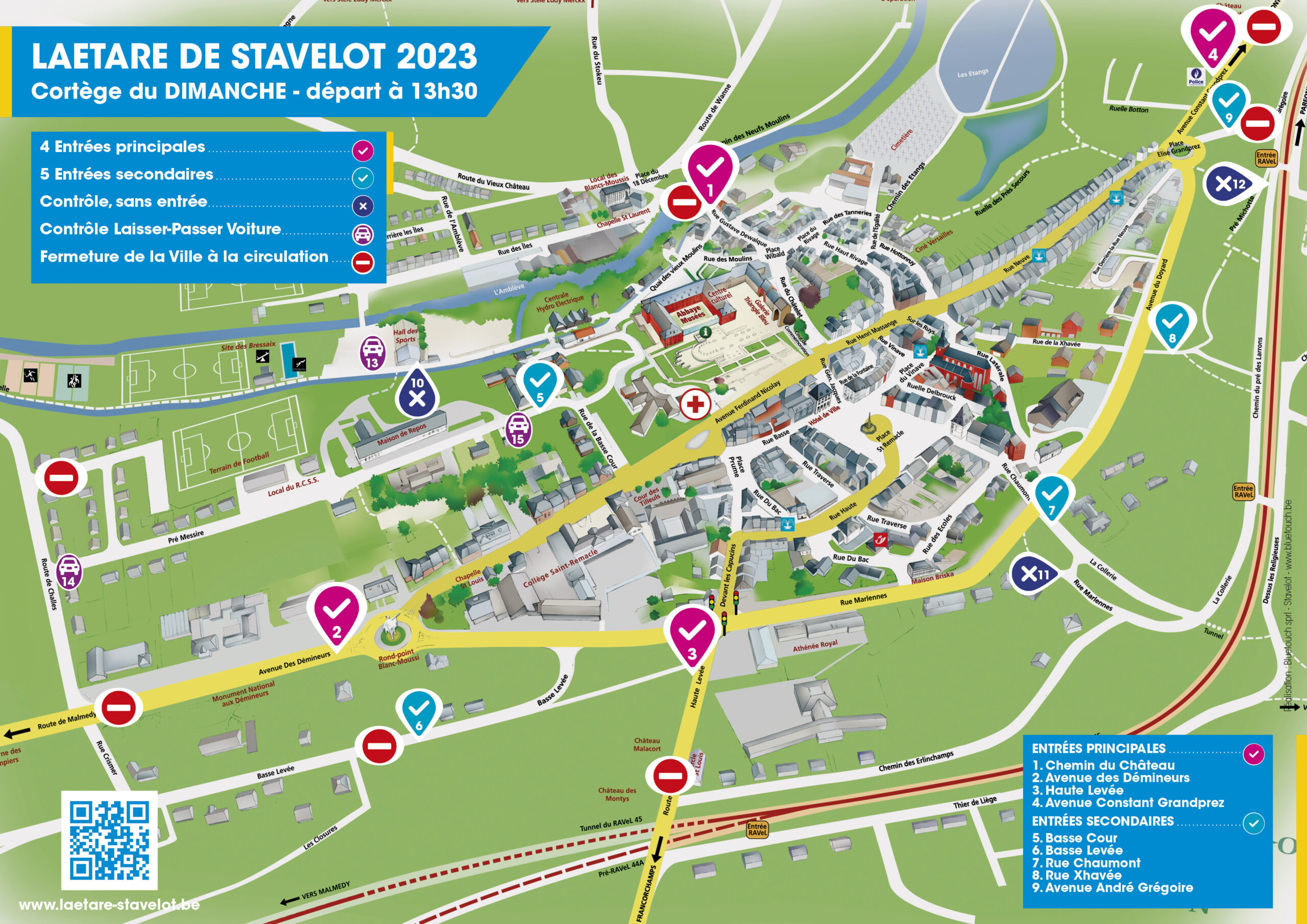 Download the PDF directly at
https://www.laetare-stavelot.be/wp-content/uploads/2023/02/LaetareDeStavelot-CortegeDimanche-Entrees-Fermetures-2023-v02.pdf
Download the JPG directly at :
https://www.laetare-stavelot.be/wp-content/uploads/2023/02/LaetareDeStavelot-CortegeDimanche-Entrees-Fermetures-2023-v02-scaled.jpg
Entrance 5,00€ for over 12 years old
FREE entrance for children under 12 years old
& for the inhabitants of Stavelot
(on presentation of your identity card)

Déviations
—————–
Malmedy to Trois-Ponts…..1
Trois-Ponts to Malmedy …..2
Wanne to Beaumont…..3
Relief parking
————————————–
Zoning Malmedy + Malmedy EXPO…..P1
Blanchimont (Route du Circuit) …..P2
Binsta (Mista – route de Challes) …..P3
Shuttle on the National to Stavelot
Haute-Levée (Bellaire) …..P4
Parking for BUS
——————–
Pré-Messire…..P5
Petites-Communes – Shop OKAY…..P6
OTHER PARKING
————————–
Parking VIP…..P5 VIP  –  P6 VIP
Parking PMR – Carrefour Market…..P7
Parking VIP Blancs-Moussis…..P8 BM
(Athénée de Stavelot)
TEC / SHUTTLE …..TEC  –  NAVETTE
VIP entrance & Car Pass…..VIP
City closed on Sundays from 10am to midnight
Stavelot bypass open after the rondeau (+/- 19h00)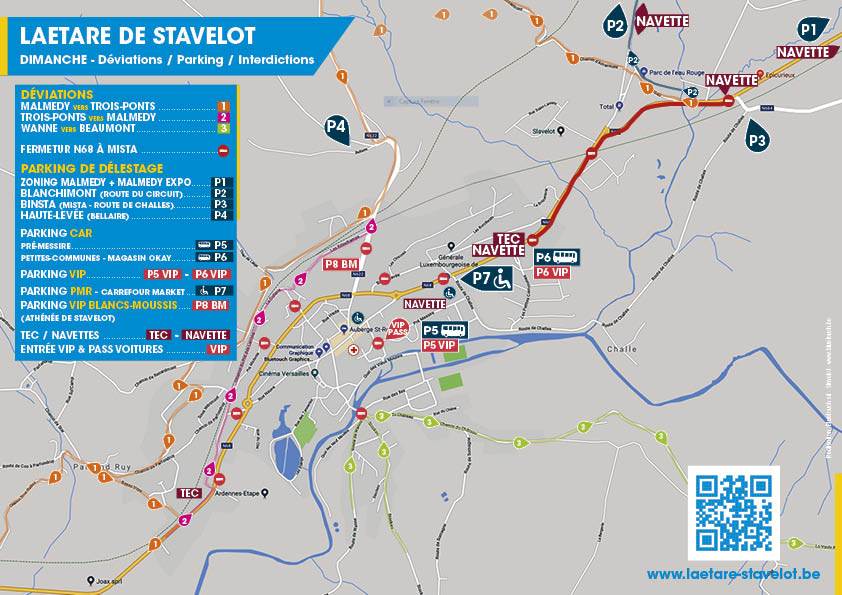 Download the PDF directly at
https://www.laetare-stavelot.be/wp-content/uploads/2023/02/LaetareDeStavelot-CortegeDimanche-Parking-Deviations-Navettes-2023-v03.pdf
Download the JPG directly at :
https://www.laetare-stavelot.be/wp-content/uploads/2023/02/LaetareDeStavelot-CortegeDimanche-Parking-Deviations-Navettes-2023-v03.jpg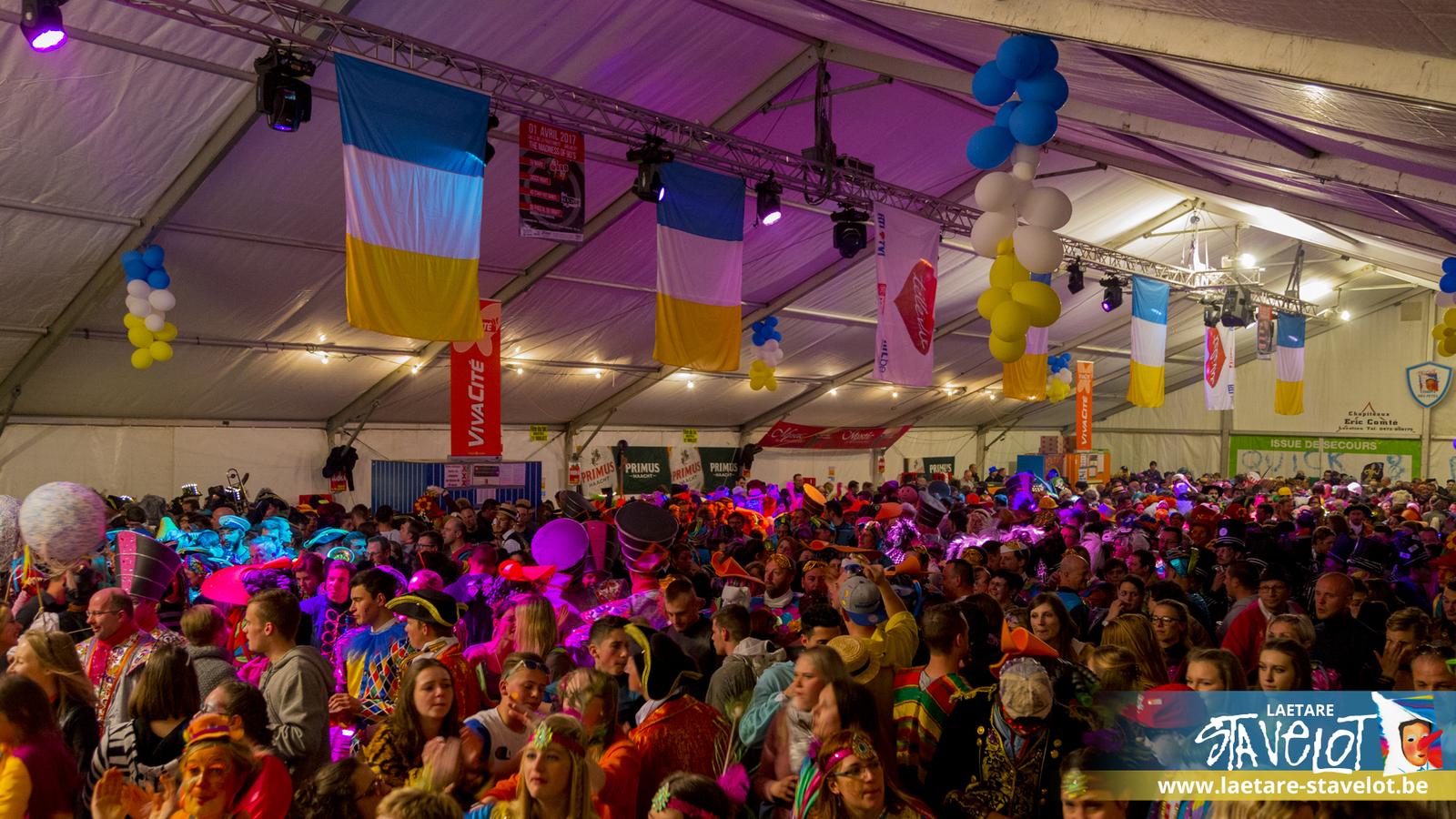 Samedi du Laetare
Animation sous chapiteau
19h00 : Ouverture au public du Chapiteau du Comité des fêtes du Laetare de Stavelot

20H00 :

Bal à l'Abbaye, entrée gratuite en chapiteau chauffé. Ambiance purement carnavalesque assurée par DJ Kelly​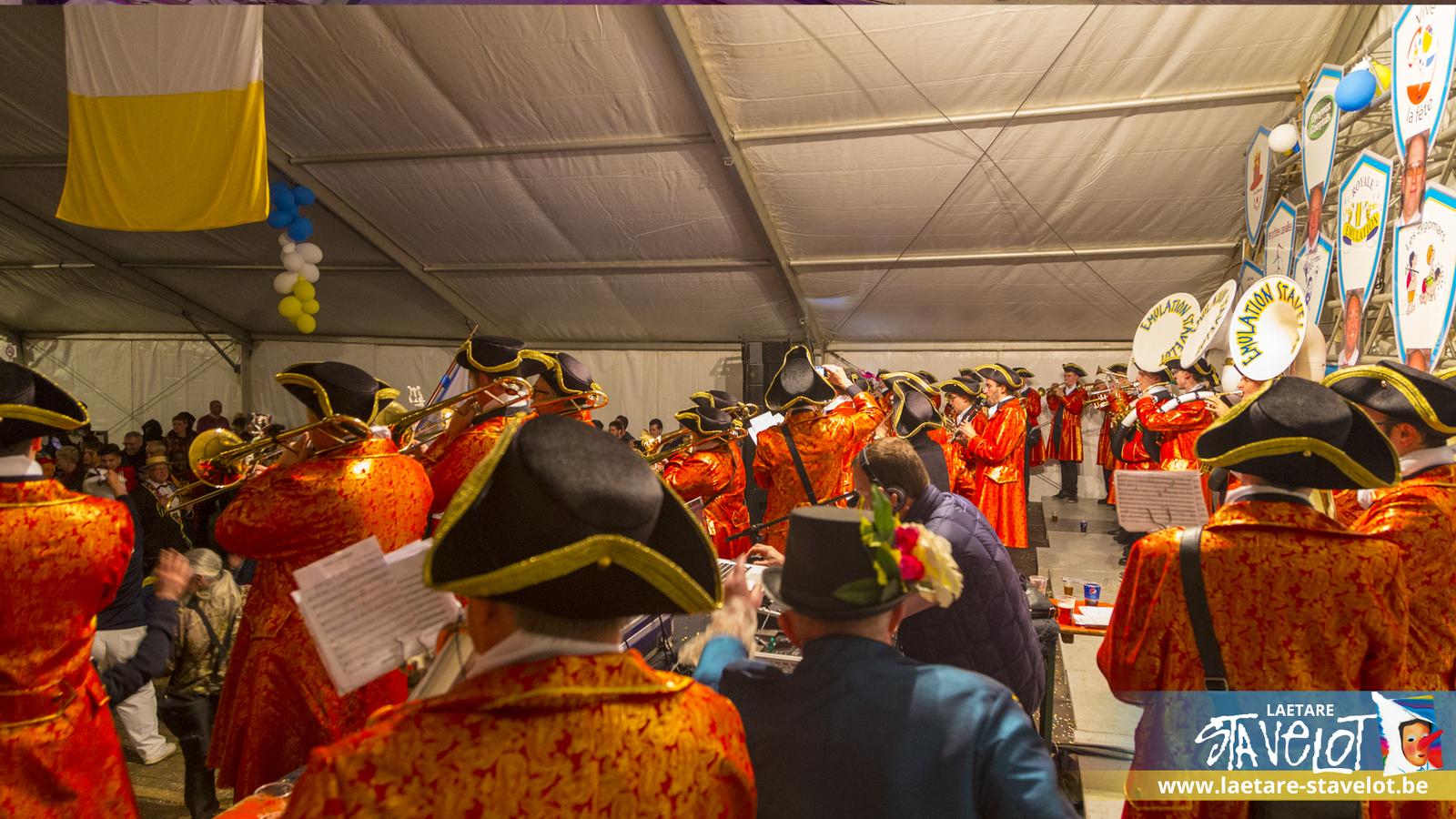 Dimanche du Laetare
Animation sous chapiteau
Après le Rondeau sur la Place Saint-Remacle, nous vous convions dans le chapiteau de la cour de l'ancienne Abbaye de Stavelot afin de découvrir les différentes sociétés de musique en représentation
Programme du chapiteau
17h00-17h45  : L'Echo des Charmilles – Brass Band de Xhoffraix
17h45-18h30  : Les Echos de l'Amblève – Royale Fanfare de Ligneuville
18h30-19h15  : L'Ardennaise – Royale Fanfare de Trois-Pont
19h15-20h00  : La Fraternité – Royale Harmonie de Malmedy
20h00-20h45 : L'Emulation + Royale Harmonie de Stavelot
21h00 : Grand feu d'artifice
22h00 : Nuit blanche des Blancs Moussis dans les caves de l'Abbaye de Stavelot